Assistant Accountant/Department Head
How to: Approve a Petty Cash Envelope
Step 1: Select PETTY CASH under "Crew Expenditures" from the menu.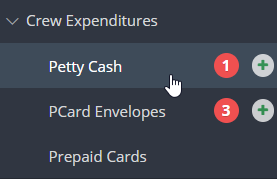 Step 2: Click REVIEW.

Step 3: Review and approve or reject the PC envelope.

NOTE: If you reject the envelope, you may leave a note for the creator to specify what should be changed.
Tip: The files area may be used for receipts or supporting documentation.