Employees may opt-in to receive digital tax documents. A more secure, convenient, and eco-friendly alternative to receiving paper documents. All employees may view their annual tax documents from our web app.
How to: View Tax Documents
Step 1: On the left navigation in the My Profile section, click MY TAX DOCUMENTS.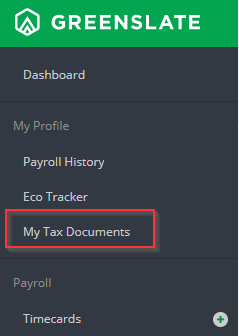 Step 2: Click VIEW from the Actions dropdown menu to the left of the tax document you would like to view.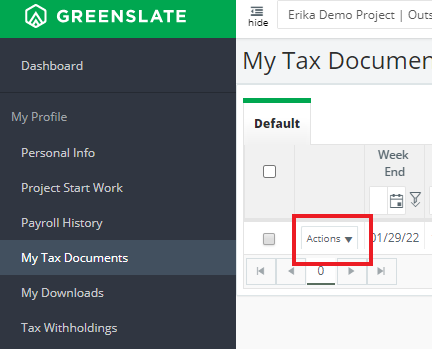 The tax document will open in a new tab where it can be printed or downloaded and saved as a PDF.
Please note: To help protect employee information, Social Security Numbers (SSNs) are masked on all payroll tax documents.
To confirm that your SSN is correct, please review your Personal Info page.

Step 1: Under My Profile on the left, click PERSONAL INFO.
How to: Opt-in to Digital Tax Documents
Step 1. Click the My Account icon in the upper right.

Step 2: Click PAYROLL SETTINGS.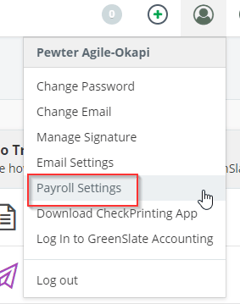 Step 3: Check the box next to "I would like to receive digital copies of my tax documents and waive receiving paper tax documents" in the Digital Tax Documents section.

Note: you will also have had the opportunity to opt-in to receive digital tax documents only if you previously complete digital start work in GreenSlate.
Step 4: Click CONFIRM after reading the consent notice.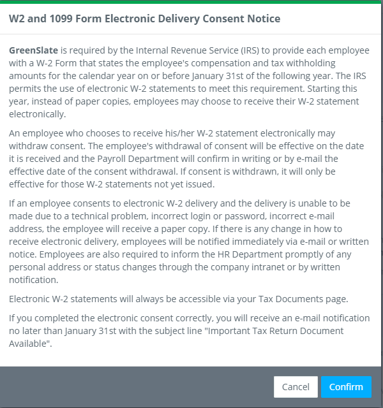 Step 5: Click SAVE.