You may use your active notifications to navigate directly to I-9's that need review, or you may find I-9s that need review from the I-9s area.
Step 1: Under Digital Start Work, from the left navigation, click I-9s.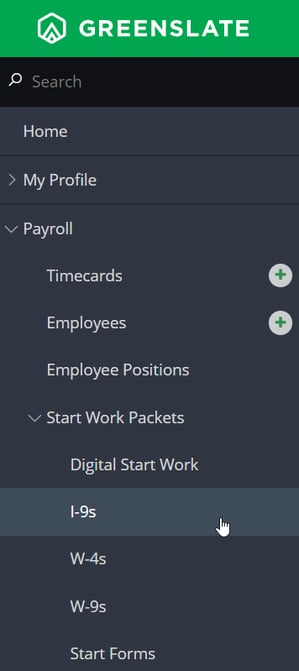 Step 2: Click the Review button for the I-9 you'd like to approve.

Step 3: To review I-9 documents, click on the document title in blue. To certify the I-9 documents, check the box shown below:

Step 4: Complete the hiring information

Legal disclaimer: Utilize the alternative procedure check box if participating in an authorized, alternative procedure of examining I9 documents.
You may do so only if the production company employer is registered to use E-Verify. An employer may choose to use an authorized representative to complete, update or make corrections to Section 2 or Supplement B on their behalf. This includes the use of an authorized representative to conduct remote document examination to satisfy the physical document examination requirement. If GreenSlate is providing e-verify for your production the production must still witness all I9 documents as required by law. If I9 is verified utilizing the alternative procedure, the back up documents MUST be attached to the I9
Note: for information on alternative procedures authorized by DHS, please click here.
Step 5: Click REJECT if the employee needs to make changes, otherwise click APPROVE. These actions are found in the bottom right-hand corner.