With GreenSlate, you may print your payroll checks onsite. To do so, please speak with your Paymaster, or email clientsetups@gslate.com. We will promptly send you GreenSlate payroll check stock. You must also download our Desktop Check Printing App
How To: Download the Desktop Check Printing Application
Step 1: Log into GreenSlate and click on your name in the top righthand corner, then click DOWNLOAD CHECK PRINTING APP.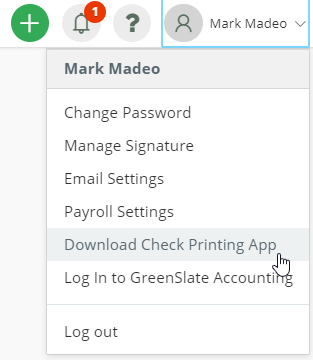 Step 2: Select whether you are downloading the app for Windows or Mac.


Step 3: Click on the download to open it and begin the installation.
Note: If you don't see the file from your web browser, check your computer's Downloads folder.
Step 4: Click INSTALL and then FINISH in the "Setup - GreenSlate" window.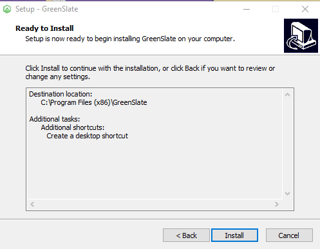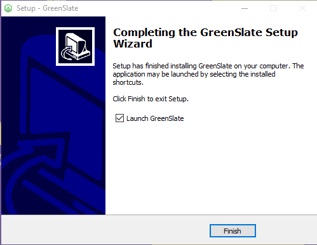 The icon is now on your desktop for access to your GreenSlate check printing.

Note: If you're on a Mac, the GreenSlate app may be found in your Applications folder from the Finder.
How To: Print Payroll Checks:
Step 1: Open the Desktop Check Printing Application from your desktop, applications folder, or by searching your computer for "GreenSlate".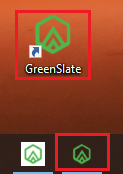 Step 2: Under Payroll, click ALL BATCHES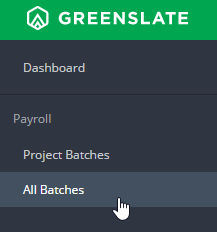 Step 3: Click into the ALL PROJECTS tab and in the Status column, filter by CHECKS READY:

Note: You may also filter by Project or Batch ID. Type into the column headers to filter.
Step 4: To begin printing a batch, click PRINT.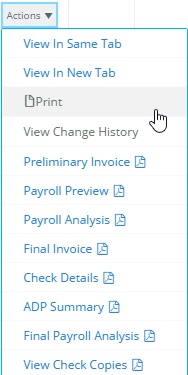 Note: To view a preview of all the checks in a batch, click VIEW CHECK COPIES.
Step 5: Select the printer from the drop down menu.


Step 6: Click PRINT.
Note: You also have the opportunity to print a test check by clicking PRINT TEST CHECK.

For clients who consolidate multiple payments to employees who receive live, printed checks, those will be printed from Consolidated Paychecks, rather than All Batches.
How to: Print Consolidated Paychecks
Step 1: While in the desktop check printing application, under Payroll, click Consolidated Paychecks
Click In Process to show consolidated paychecks that need printing, and use the Actions dropdown to print.
Note: Consolidated paychecks that are checks to be printed stay in the In Progress tab until they are printed, and then they move to the completed tab. If a multi-project company is used, the printer must navigate to a project within the company where paychecks are consolidated.
Important Notes:

Checks can only be printed ONCE. If you need checks enabled for reprinting, you will have to contact Support.

Checks must be printed using MICR Toner. MICR Toner printer options may be found HERE
Checks must be printed using GreenSlate payroll check stock

If you need access to print payroll checks, speak with your Paymaster, or email projectsetup@gslate.com