When previews are ready, the payroll preview approvers will be notified via email. To review the preliminary reports and approve or reject the batch previews, navigate to the All Batches screen.
Step 1: Under Payroll on the left, click ALL BATCHES.

Step 2: Click ACTIONS to the left of the batch you would like to preview.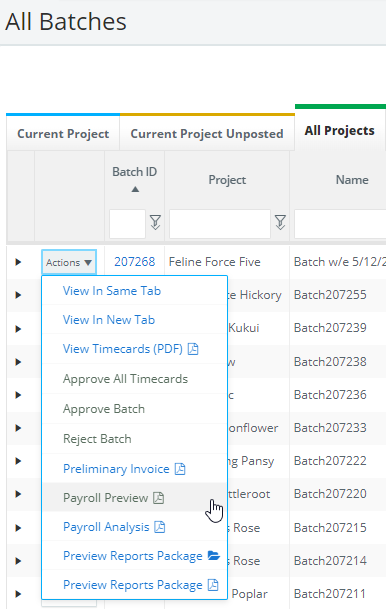 Note: The actions for batches with a status of "Preview Ready" will show all available reports, timecard PDF's, all reports as one zip folder package, and the actions to approve or reject the batch.
Step 3: Once you have completed your review and determined that everything is correct, click APPROVE BATCH in the actions dropdown menu. Your payroll will then be processed.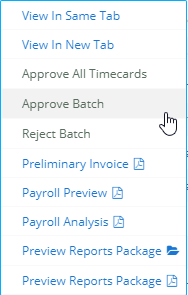 Note: if you need to any changes, add timecards, remove timecards, or have any other issues, please click REJECT BATCH. You'll then be able to make changes to the unsent batch, and timecards within the batch. A message can be left for the Paymaster at this time, to explain the reason for rejecting.