With GreenSlate, you may generate and print your 1099s using your own computer and printer.
Once you have completed your review of the accounting reports "Transaction Edit List By All Accounts" and the "Vendor Check Register", and all 1099 coding of necessary invoices have been updated, you may follow the steps below:
Step 1: Click PRINT AP VENDOR 1099s.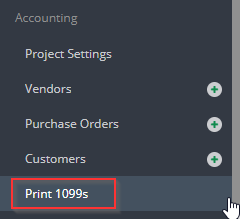 Step 2: Fill out all information in 1099 Client Info text fields.


Note: if you wish to Generate Cross Project 1099s or Manually upload 1099 Final Run Reports, check the applicable checkbox.

When generating Cross Project 1099s, you can choose desired projects under the same company.
If you are manually uploading a .csv file, after clicking the checkbox to manually upload, click UPLOAD to open the file browser or drag and drop the CSV file with the 1099 data to the area labeled CSV Attachments.

Step 3: Click GENERATE 1099s.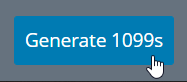 The zip file(s) will be available in My Downloads under My Profile, from the left navigation.

The 1099 MISC and 1099 NEC forms will both be generated.
Current year 1099 forms may be purchased at retail office suppliers, or online.
GreenSlate does not support or generate fire files.
We offer 1099 filing service! Inquire at 1099@gslate.com