Step 1: Click the Chart Of Accounts icon on the home page and click CLOSE PERIOD or...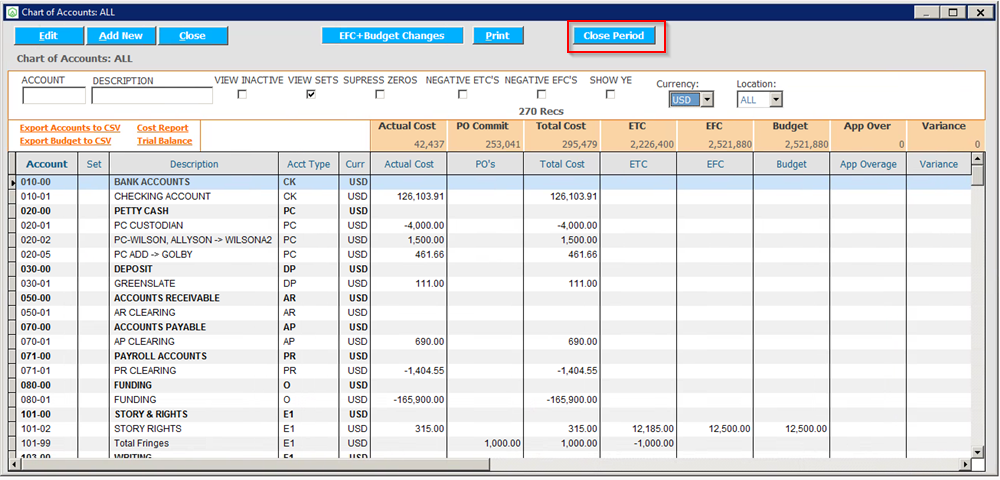 ...click GL at the top and select CLOSE PERIOD from the drop down menu.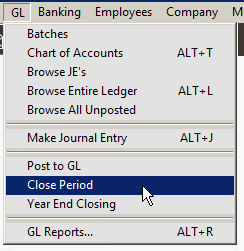 Date Driven Periods:
All transactions, POs and changes have an effective date associated with them. Periods are closed with an effective date range and group the associated transactions within the period effective date range.
You can choose any range of effective dates when closing your period. When entering a transaction, specify the effective date applicable to the period you want the transaction to be associated with. All current period transactions will be entered into period zero. When closing the period, those transactions within the date range entered will be coded with the next period number.

Step 2: Enter the period start and end date (the effective date range) and click CLOSING REPORTS to preview the Closing Reports.

Note: The closing window will tell you if there are any unposted transactions. Transactions that are unposted and dated outside of the period are automatically moved to new period batches or posted. Once a period is closed, you can only choose an effective date for a transaction occurring after the effective date of the most recent closed period.
Period End Date Warning: If the end date is greater than or less than 7 days from the current date, the system will warn you in case this is in error. If the date is correct, click YES.

Step 3: When you are ready to close the period, click CLOSE THE PERIOD. This will print the final Closing Reports and move or post unposted transactions.

The system will produce the standard period closing reports:
General Ledger

EFC Changes Report
Trial Balance Report

Cost Report

Remember: You can only close the period once a day. For example, if the close date is 10/10/16, the next close date cannot be earlier than 10/11/16.