Step 1: In the Chart of Accounts window, select the account you would like to edit/delete and click EDIT or right-click on the account and click EDIT COA to bring up the Account Maintenance window.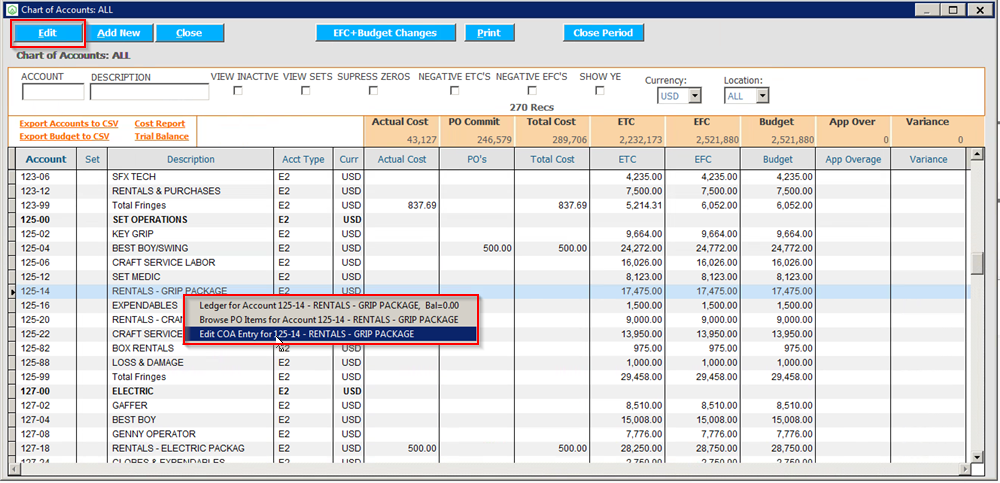 Step 2: If you would like to edit the account, click EDIT. If you would like to delete the account, click DELETE THIS ACCOUNT.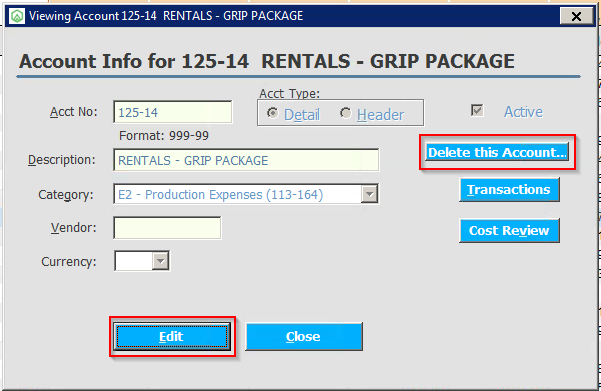 NOTE: You cannot edit or delete an account if it has been used in a transaction. Once a transaction has been entered and posted, the account description and un-checking the active box are the only possible edits. If an account has no activity and you would like to deactivate it, uncheck the ACTIVE box. This will deactivate the account and remove it from the Chart of Accounts list.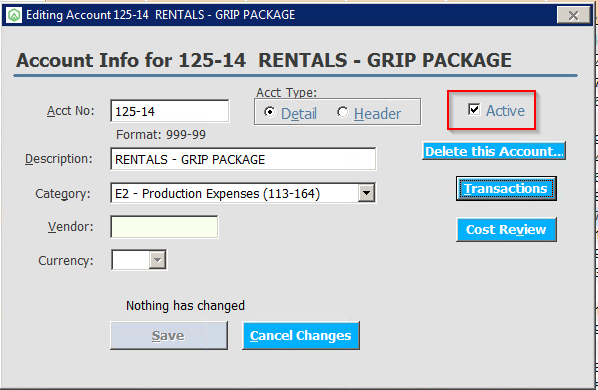 What can I edit??
Acct No: Can only be changed if transactions have not yet occurred.
Acct Type: Can change from detail/header if no transactions have occurred.
Description: Can be changed at any time.
Category: Cannot be changed once a transaction has occurred.
Vendor: Cannot be changed once a transaction has occurred, but can be changed through vendor file.
Currency: Cannot be changed once a transaction has occurred.
Active: Uncheck ACTIVE box to deactivate an account. Once an account has been deactivated, it will no longer appear on the Chart of Accounts. Anytime you would like to see deactivated accounts, click VIEW INACTIVE from Chart of Accounts filters.
Delete this Account: Accounts with transactions cannot be deleted. However, they can be merged with other accounts and/or renamed. Click for information on merging/changing account numbers.
Transactions: Will open ledger for account.
Bank info: This will only appear in an account that has been described a bank acct. You will need to add the account information for the bank along with picking a check type.
Step 3: Once an edit has been completed, click SAVE.

Note: If you have the alpha-numeric account number feature enabled, you can use both numeric and alpha characters when changing your account number.