Step 1: Click Enter Bills icon on the home page.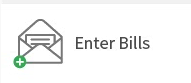 Step 1: Select the vendor from the drop down menu (If the vendor does not already exist, click QUICK ADD or SET UP in the window that pops up). Fill out the invoice #, description and amount due. Enter the expense account on the line itself. **Anything highlighted in YELLOW is required in order to save.**
NOTE: If a PO already exists for the vendor, a window will pop up showing the existing POs. If the bill is for one of the listed POs, select it from the window. If the bill is for a different amount than the PO, edit the PO amount to match the bill. The PO will then show as having a status of Partial on the Browse POs screen. If you would like to close out the PO and not keep the remaining partial amount, click the box to the right in the column with the "." See How to Use PO article for step by step information.

Effective Date Warning: If the effective date is 30 days greater than the current date, the system will warn you in case this is in error. If the date is correct, click YES.

Step 3: If you have a copy of the bill that you would like to attach, click ATTACHMENT then select ATTACH FILE.
Step 4: Select the uploaded copy of the bill from your computer (select the Local Disk C: Drive>Users>Your name) and enter the file name you would like in the Enter File Name to Save With window. Click OK.
Step 5: Click SAVE and you will see the message that the transaction is saved.
Step 6: From the Vendors drop down menu, select BROWSE BILLS to see the newly added bill.

Step 7: Double-click on the bill if you would like to see the detail view.