Highlights:
Allows viewing, adding and editing accounts. Also viewing, adding, and editing of Bank accounts.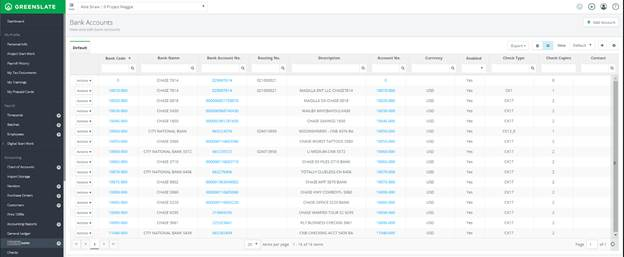 Allows the distribution of an individual Transaction detail line on a closed period, into one or more lines.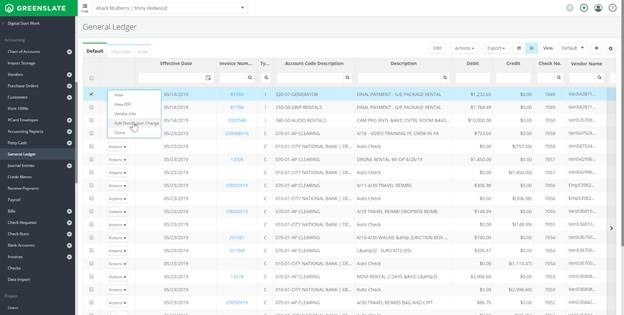 Facilitates the tracking and editing of Tax Credit codes, and its overall status on the Incentives Dashboard.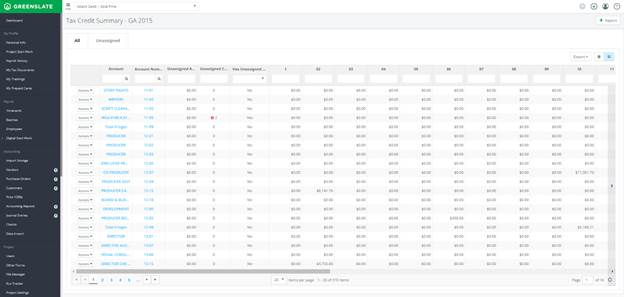 From Patches:
NY State Form: Preparer's Name and Title should be pulled user on final approver step

.
DSW:
Allow only one pending I-9 form at a time - removes 'Add' button when a Pending form exists.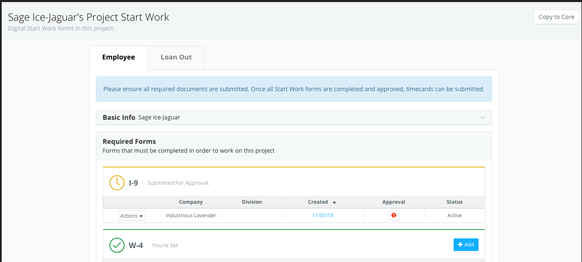 When a paymaster enters a new paper employee to core, and an email address exists, they will be automatically invited to GSW as a user.
Timecards:
Change timecard calculation-type variables to be calculated by position, rather than the entire timecard.
Add 'Needs Splitting' column to 'Timecards' page - shows timecards with changes in 'Project' or 'Location' column.
Save code defaults entered in 'Codes' panel at top of Timecard page.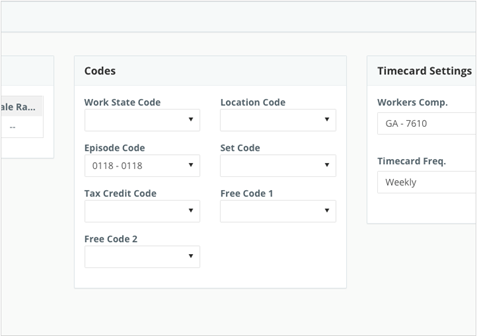 Reports:
Update checkbox name to 'Show Inactive Projects'.
Several Payroll Report changes
Users and Roles:
Add Other Forms access to system roles - rework of who can see 'Other Forms' page
Action added to allow deactivation of global positions.
Accounting Features:
General checkrun improvements
GSA:
New Search GL Function in GSA has a column that lists the "Company Code", which is included when exporting to CSV file.
Add Payment Terms to PO's & Bills.
UI and Usability:
Design standards from Transaction Pages applied to Purchase Orders.
When password is expired, don't log user in, just show a "New Password" field.
PO, GL and Account grids upgraded to system standard using Signal R.
Signal R standard added to Form Actions: Create, Delete and Update
Hover state added to dashboard panels.






Other changes:
When a Simple Project is created, store it in the same table as other Production Dashboard projects.
Touch ID login for GreenSlate app!
Several Canadian payroll changes
Insert vertex deduction Union dues
Add new column isCanadianEHT to fringes tables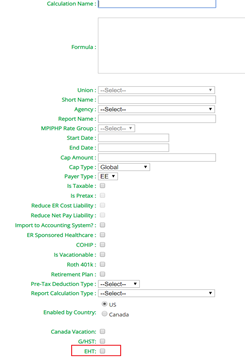 Processed Payroll Report - Add Project Currency