Once the batch has been sent to the paymaster and approved, the individual designated to review and approve the batch on your project will be notified via email (the status of the batch in Greenslate will now be Preview Ready). When he/she reviewed the payroll preview and approves it in GreenSlate, we will begin to process your payroll for you.
Step 1: Under Payroll on the left, click BATCHES.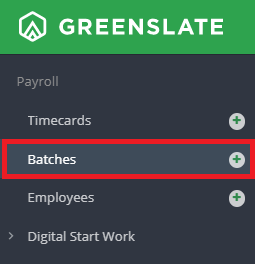 Step 2: Click ACTIONS to the left of the batch you would like to preview.

Step 3: Click PAYROLL PREVIEW. (You can also view the preliminary invoice and payroll analysis.)

A new window will open in your browser with the payroll preview.

Step 4: Once you have reviewed the preview and determined that everything is correct, click APPROVE in the ACTIONS dropdown menu. Your payroll will now be processed.

If you do not want to process the batch, click REJECT in the Actions column.

The batch will now change back to a status of Unsent. Additional timecards can be added to or removed from the batch and then the batch can be resent to the paymaster by clicking SEND in the Actions column, or the batch can be deleted completely by clicking DELETE.