Once a timecard has made it completely through the timecard hours approval flow, the timecard is ready to be batched and sent to the paymaster.
Creating a Batch
Step 1: Under Payroll on the left, click BATCHES.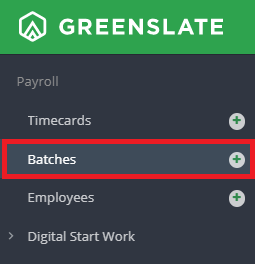 Step 2: Click CREATE BATCH.

Step 3: Enter the batch name and the expected pay date.

Step 4: Click ADD in the Actions column for any individual timecards you would like to include in this batch.

Or use the checkboxes on the left to select multiple timecards, then select ADD TO BATCH from the Actions dropdown on the top right.

Step 5: Once you click ADD, the timecard will move to the In This Batch section. When all desired timecards have been added, click SAVE.

Sending a Batch
The Batches page will automatically appear after you create your batch. You can see the batch you've just successfully created as well as previous batches and their statuses. By clicking the arrow on the left, you can view the timecards within a batch.

Step 1: When you are ready to send your batch to the paymaster, click REQUEST PREVIEWS in the Actions dropdown menu.

Once you've sent a batch, the status will change from Unsent to Generating Preview. When the paymaster has approved the batch, the person set up to approve the payroll preview will be notified that the preview is ready. For more information, see How to: View Batch Previews and Approve.