Optimizations:
We've optimized one of our system's heaviest operations (the Batch Cell Date function). The time this process takes was reduced by up to 70%.
The entire logic to load the batches was revamped to optimize the time it takes to perform security checks over the batches and timecards to avoid timeout operations during that check.
New Features:
Auto-Gross - We now automatically calculate Hours to Gross for timecards in projects that have the Hours to Gross feature enabled via 'Enable Automatic HTG' project setting
Processed Payroll Reports - Report is functional for general use (except for Additional Field Options)
Tabbable Grids - Users can now navigate through transaction forms and grids using the tab key.
Digital Payroll:
We can now assign each field in a custom form to be completed by a specific approver. This means users only see fields they need to fill in, further enhancing the custom forms experience.

The Digital Start Work packet can now be downloaded before all forms are completed. We now show all forms in the PDF and apply a stamp to any incomplete forms.
'Signature date' has been added as a pre-populated field to Custom Forms
An 'Active Employee' column was added to the 'Employee Positions' grid. This distinguishes active employees from terminated ones.
Netflix Request: We can now set custom Weekending Dates in the Timecard Precreate modal.
Reports:
Modify Payroll reports + Greenslate Info screen - On GreenslateInfo screen: Make not the fax number not required - On all payroll reports (invoice, check details, payroll analysis):Shows the fax number if any fax number is stored in the database. We also shows G/HST # is if any G/HST # is stored in the database. If not, this info is hidden.
Optimized Report: SSN, EIN and Loan Out name were added to Employee Termination Report.
Run Reports: Add 'View Reports Monitor' button on the header of Run Reports page. Open the Reports Monitor in a modal for previewing.
Run Reports: Change the 'Run' button to 'Queue Report'. Now users won't leave the page and lose their existing report filters when a report is queued.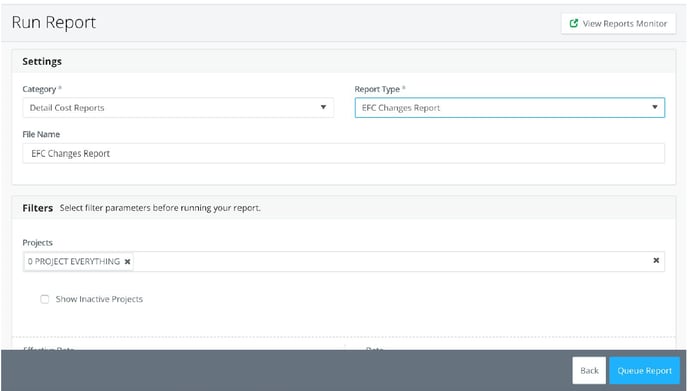 Accounting features:
A Transaction number has been added to the Digital Bills PDF
Conditional Approval Flow Steps added to transactions
Users can now designate PO numbers in the web app when a PO is created.
We used to have the ability to use a project level placeholder vendor. Now that you can create a vendor in a modal from the PO/Transaction pages the placeholder vendor is no longer usable.
GSA:
Add Payments Range functionality (GSA): Users are now able to define a payment range for the different payment types. Fields in GSA are now restricted to the payment ranges if this project setting is on.


UI and usability:
Mobile UI improvements were made to the Incentives page
Other changes:
The iOS app store link was updated for all GreenSlate emails
Our error page message has been updated based on marketing team specs
The Password Reset is now sent from no-reply@gslate.com rather than team@gslate.com
General Canadian Payroll updates