An employee receiving direct deposit can be added as an AP vendor and their bank information will populate automatically for ACH payments. Please contact projectsetup@gslate.com to enable this feature.
Step 1: Click the + to the right of Vendors on the left navigation.

Step 2: Click ADD EMPLOYEE AS VENDOR.

Step 3: Click ADD AS VENDOR to the left of the employee you would like to add.

An employee will only be available to add as a vendor if payroll has been posted for that employee.
Step 4: Manually enter or autogenerate a Vendor Code.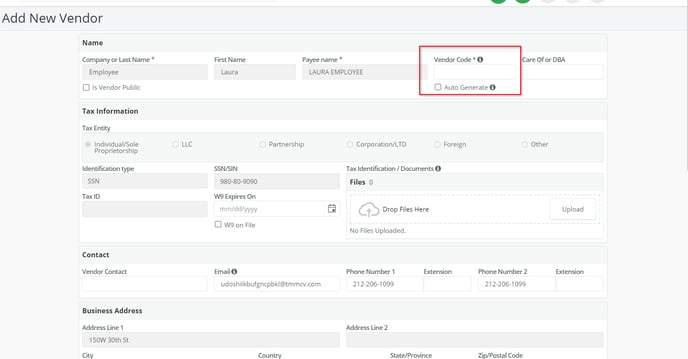 Certain fields will not be editable as they are populated based on the employee's information for payroll.
Step 5: ACH bank setup will be enabled by default and populate the masked bank information for the employee.

Step 6: Click SUBMIT.

Step 7: Once the vendor is fully approved and there is a bill to be paid, create a bill payment and select Generate Payment File as the check type.

If the employee will always be reimbursed via ACH, the payment type can be set to default to Generate Payment File on the vendor profile.

Step 8: Approve the bill payment.
Step 9: Once the status shows as Completed for the bill payment, click DOWNLOAD PAYMENT FILE from the Actions drop down menu to download the ACH file then upload the file to your bank portal.
Note: EASI Link and Bank of America ACH payment files are sent automatically, so the option to download is removed automatically.