Download the GreenSlate app for iPhones or Android devices and quickly submit your petty cash envelope to production for approval.
Step 1: Log into the GreenSlate App on your mobile device.
Step 2: Click the menu in the upper left then click the + to the right of My Petty Cash.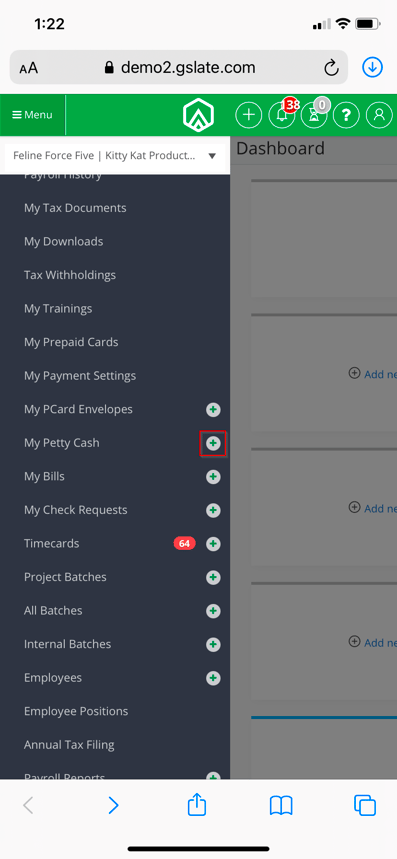 Step 3: Select your vendor or petty cash recipient from the drop down menu.
NOTE: If you don't see the vendor you are looking for, you may add a new PC Vendor from the VENDOR module.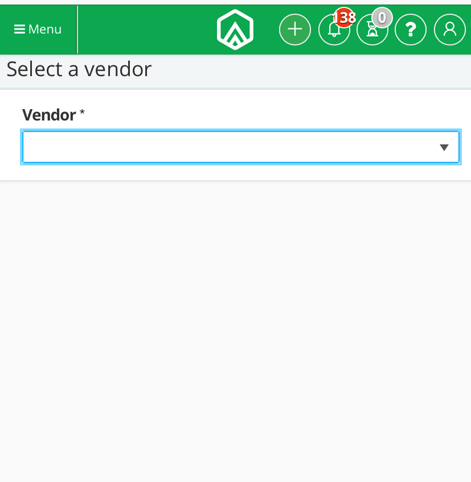 Step 4: Click SUMMARY.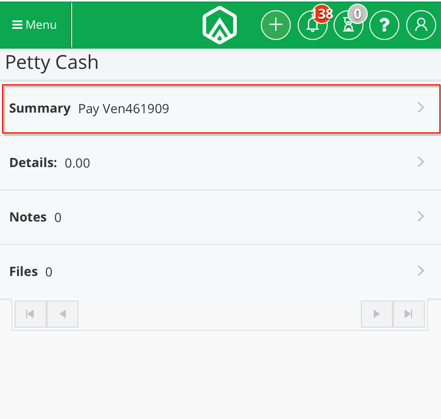 Step 5: Enter a PC envelope number or allow the system to auto generate. Enter the required information. Select a division if applicable. If you are reimbursing the vendor, you may enter a reimbursement amount. Click DONE.
If you choose to reimburse by "Check" and then post the PC envelope, a check for the reimbursement will be able to be printed from our Pay Bills module in the desktop GreenSlate Accounting platform. If you select "Cash", detail lines for the reimbursement will be added to the "Details" section of the PC envelope.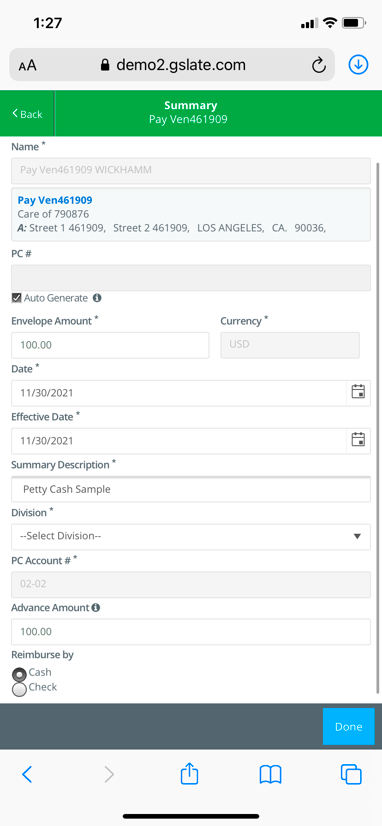 Step 6: Click DETAILS.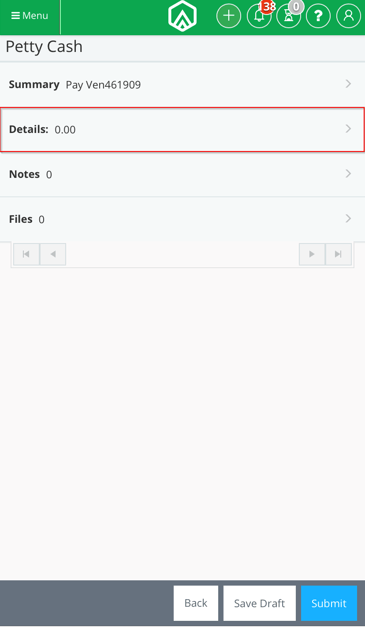 Step 7: Select the Location Code. To insert additional lines click ADD ITEM.
You may use the "Import Details" to bring in PC transactions associated with that vendor, or you may use the "Attach PO" option to bring in detail lines of a purchase order.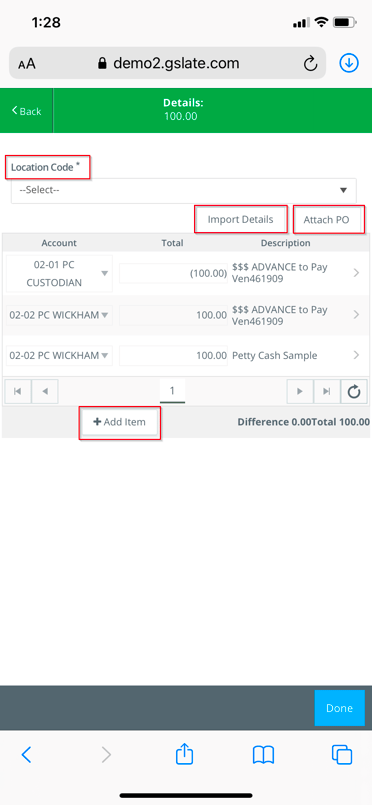 Step 8: To enter additional account codes, click the right arrow.

Step 9: Select a 3rd party vendor, work state, 1099 code, free code, or tax credit code if they are enabled on the project. Click DONE.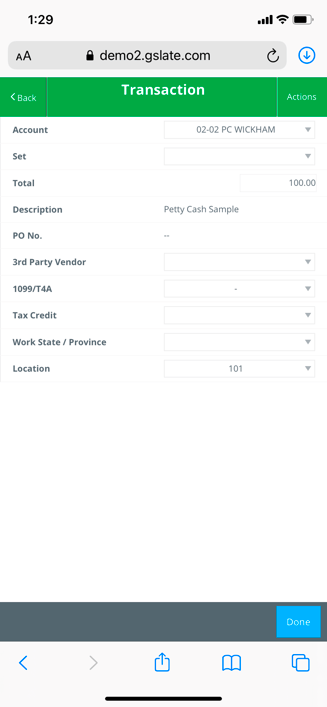 Step 10: Click NOTES to leave a note on the petty cash envelope.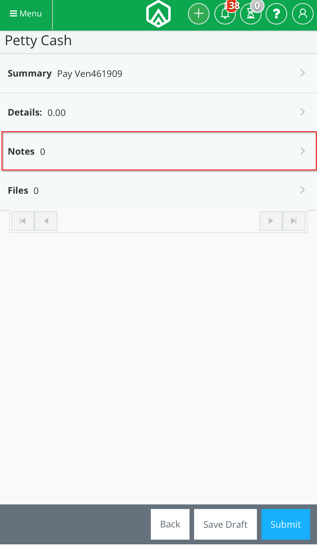 Step 10: Enter a note and click SUBMIT NOTE then click DONE.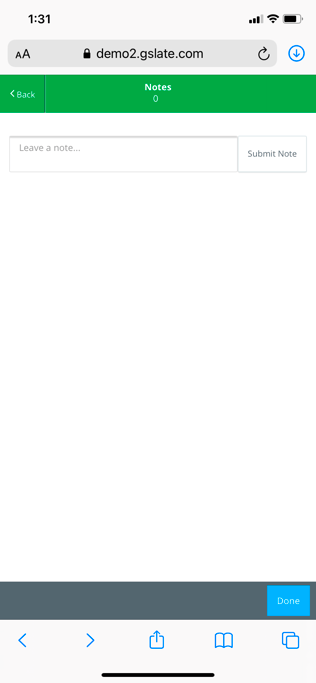 Step 11: Click FILES to attach files, such as receipts, to the petty cash envelope.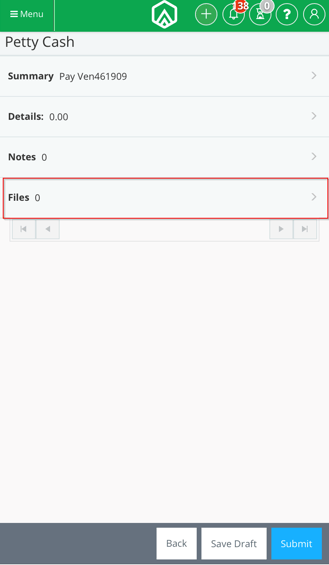 Step 12: Click UPLOAD then choose to upload a photo from your mobile device's library, take a picture, or browse other files. Once all files are added, click DONE.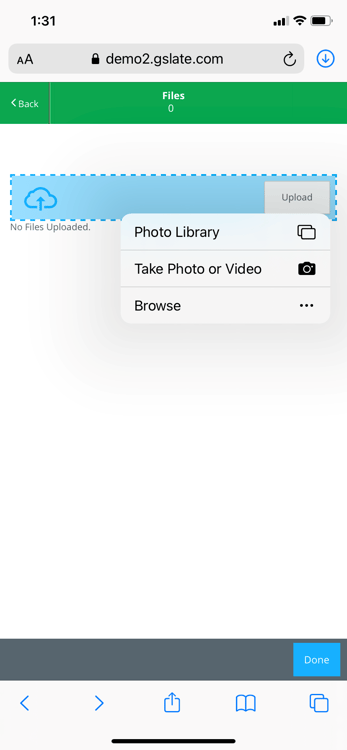 Step 13: Click SUBMIT.