View the daily times for each employee, including hours worked, overtime breakdown, penalties and coding. With the Daily Times timecards grid, quickly search, filter, and export reports.
How to: Use Daily Times
Step 1: Under Payroll, click TIMECARDS.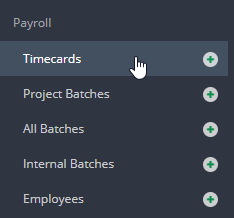 Step 2: Click DAILY TIMES.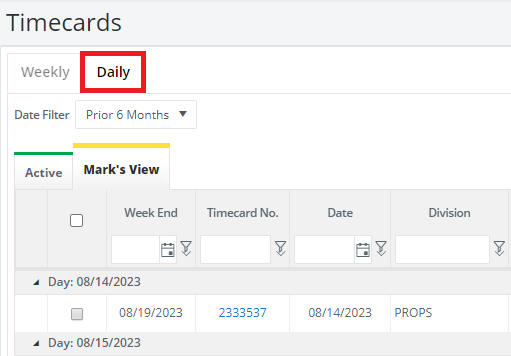 Note: Use our default views, or create your own filters and groups. Filter days based on a date, a department, an employee, a call time, an episode code, and more. Learn more about custom grid views.
Tip: use the search bars to find the particular day, week ending date, employee, or department.
How to: Export Daily Times: Click EXPORT. You may choose a PDF, which will only show the current page, or an Excel file, which will show data of all pages. Using our Excel export feature, you can create a report that can be used to populate your own Production Report or Hot Cost.
Note: Selected groups and filters will be applied to reports.
How to: Bulk Edit Timecard Day Accounting Codes
Step 1: Under Payroll, click TIMECARDS.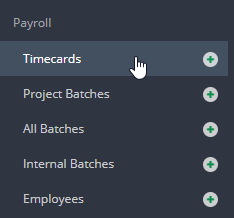 Step 2: Click DAILY TIMES.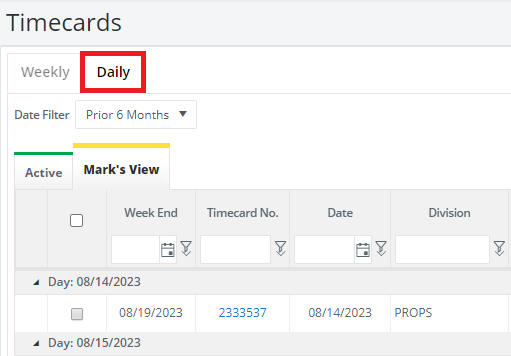 Step 3: Click EDIT.

Step 4: Select the timecard days you wish to update coding for.

Note: additional accounting codes that may be edited show a dropdown menu with white arrows outlined in blue. Use our filters to isolate days by weekending date, division, day type, and more!

Step 5: Update the desired codes in the header row then click the arrows to apply the change. Then click SUBMIT.